The Database Design Tool (DB-Tool) fulfils the need to capture the meta-model as well as various physical implementations of FIDM™ in different Relational Data Base Management Systems (RDBMS), e.g. DB2™, Oracle™ or MS-Access™. This tool generates Data Definition Language (DDL) for the different RDBMS. It is able to capture data models from any domain.
As a core part of the FIST-ToolKit suite, the DB-Tool is proven of value for: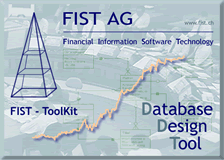 Ablage und Implementierung der verschiedenen FIDM-Releases, d.h. das Tool unterstützt versionierte Modelle
Modellierung der Zieldatenbanken für die Datenfeed-Verarbeitung
Modellierung der Daten angegliederter Gebiete im Sinne der sukzessiven Integration
Aktives Dokumentieren der Anpassungen und Erweiterungen der Datenmodelle und deren Implementierung
Generierung der DDL für Tabellen, Indizes, Tablespaces, Konsistenzregeln der implementierten Datenbanken in DB2™, Oracle™, MS-Access™ (auf Wunsch auch für andere relationale Datenbanken)
Migration der Datenbankimplementierung zwischen DB2™, ORACLE™, MS-Access™ (auf Wunsch auch zwischen anderen relationalen Datenbanken).